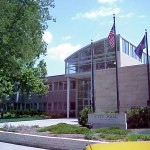 Four general items topped the agenda Tuesday for the Manhattan City Commission.
Of those, the issue of the expansion at the public library held a lot of discussion from both the commission and the public itself.
From both sides of the table, both views were expressed.  Commissioners and public voiced that the expansion is needed and would be beneficial for the community.
The other side showed this is not the right time for such a endeavor.
Commission Wynn Butler brought up the issues of a new commission would be brought in and there are legislative issues still unknown.
Butler made the original motion to table the item until the middle of next month, but that motion failed.
Commission Jim Sherow made the plea to move forward and this was echoed by Mayor Loren Pepperd, who pointed out the fact money has already been spent to secure the donations that have already been made.
The vote came out to 3-2.  Those who voted for the issue included Commissioners Rich Jankovich, Sherow, and Mayor Pepperd; those dissenting included Commissioners John Matta and Butler.
Another issue causing some concern for the commission was the return of the Flint Hills Area Transportation Agency, or ATA, and their request for the city to allow them to place bus stop signs on the city's right-of-way.
Though the conversation veered from the signs to the fixed routes with opposition being expressed, the reality of the conversation was just for the signs as Sherow pointed out and the issue passed with a 4-1 vote, with Matta dissenting.
The other two general items, the ordinance adopting and amending of the 2009 international energy conservation code and the awarding of the contract for the Manhattan core district improvement project, both passed unanimously.