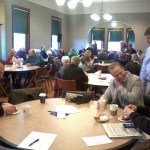 Taxes, budget cuts and sequestration seemed to be the main topics discussed during Saturday morning's Legislative Coffee.
Representative of the 66th District, Sydney Carlin was the first to share her concerns and thoughts on some of the current issues.  Carlin mentioned, tax revenues are down from where they should have been at the end of February.  Taxes are down $33 million, and the sales tax is down $800,000 in particular.  Carlin also commented on the home mortgage negotiation, calling it a "disturbing trend" that is coming into the tax policy involving "tweeking" home mortgages.
Representative of the 67th District, Tom Phillips expressed gratitude for the other three legislators hard work.  "The four of us are trying to meet on a regular basis", said Phillips.  He also commented briefly about "turn around day", which occurred on February 28th.  This day involved all of the bills in the House, going to the Senate, and vice versa.
Representative of the 64th District, Vern Swanson recently experienced a slight change after the redistricting.  Swanson's district used to cover Geary county and all of Clay county.  Although he still covers Clay, Swanson now serves northern Riley county rather than Geary.  Swanson took the majority of his time to comment on the sales tax, which he supported, saying "those of us who voted for it two years ago should be poster children for it, because it got us through a lot".
Lastly, Senator Tom Hawk, who represents the 22nd district, focused his time on sequestration.  "If we keep cutting our taxes so we can't afford our infrastructure and schools, we have got a real problem", said Hawk.
The majority of the questions asked during the meeting, were about the same issues.
The next legislative coffee will be held on April 6th.