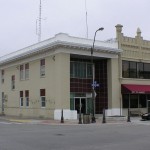 The Wamego Public Library had a busy and successful year. This is according to Library Director Leah Kulikowski in her presentation of the Library's annual report at Tuesday's City Commission meeting. She said the return on investment increased by a half-million dollars from last year, to over $2 million, at a cost of a little over $200,000, which represented only a $2,000  additional cost over last year.
The numbers in other areas showed a sizable increase. Kulikowski said library usage increased by 18 per cent, with interlibrary loan services showing an increase of 31 percent. She said the library offered 179 public classes and events that were attended by over 4,800 people, a 63 percent increase from 2011. The Summer Reading program continues to be huge success with over 500 children, teens and adults attending the six-week program. Almost 90 percent of the Library's funding comes from City taxes, with a small portion coming from the State, and Kulikowski said she expects this to decrease. The remainder comes from gifts and memorials, fines and fees and the used book sale. The commissioners expressed their appreciation to the Director, Board, Staff and volunteers for a great year.
Last fall's first Dog Jog in Wamego was a big success. At Tuesday's Commission meeting, Tammy Biswell reviewed the event and sang the
praises of Wamego High School student Jenna McGowen, who planned and organized the entire event, which raised over 1-thousand dollars for
the Animal Shelter, with half going for veterinary services and the remainder going for supplies for use during the winter months. McGowen added that attendee's brought items to the event to use for the animals. She asked the Commission for permission to hold another event on May 4th, and received their blessing.
In other business, the Commission approved City Manager Merl Page, as voting delegate, and Building Official Mac Campbell, as alternate, to the
Kansas Municipal Utilities conference in May. The Commission authorized the publication notices to vacate an easement request from
Dr. Gail McPeak in the Cedarbrook Subdivision . The Commission approved the proposal from Torrey Construction to paint the City Pool
at a cost of over $29,000 . And, approval was given to the Chamber of Commerce to use the same areas of the City Park for the Annual Tulip Festival on April 13th and 14th.