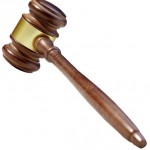 Patrick Scahill, 20, and Virginia Griese, 19, entered a plea of not guilty to the charge of Arson where an apartment building was purposely set aflame leading to the death of 34-year-old Vasanta Pallem on February 6th. Their arraignment trial in U.S. Magistrate Court in Topeka was on Wednesday morning.
The case will be reviewed by a panel of experts with the Justice Department to decide if federal prosecutors should seek life in prison or the death penalty for the suspects.
Officials have yet to give information on a motive, but it is believed by sources that the fire was set to hold the attention of authorities who were investigating a burglary the same day. Roommates of Patrick Scahill, Dennis Denzien and Frank Hanson, are facing federal charges in connection with the armed robbery at the Dara's Fast Lane on Claflin Road. They pleaded not guilty during their arraignment Wednesday.
Patrick Scahill and Virgina Degriese and still in custody by the U.S. Marshall's Service.