A new principal has been selected among the six candidates who were interviewed over the past few weeks, after current principal Terry McCarty, who announced intentions to step down recently.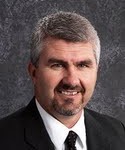 Current Eisenhower Middle School Principal Greg Hoyt has been awarded the position and will become principal as of July 1.
Hoyt stated in a news release, "I am deeply humbled and honored for this opportunity and look forward to working with the staff, parents and community members that comprise Manhattan High School".