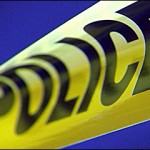 What began as an aggravated battery case KMAN first told you about this weekend, was upgraded to Murder Monday morning.
Around 5:30am, a six month old infant was pronounced dead at Children's Mercy Hospital in Kansas City.
It all started when Riley County Police Department responded to 203 Seventh Street in Ogden for a report of a six month old infant not breathing late Friday afternoon. The infant was transported to Mercy Regional Health Center where it was subsequently life-flighted to Children's Mercy Hospital.
The investigation is ongoing at this time, but the Riley County Police Department has issued a press release stating that an arrest has been made. Michael Dechant has been placed under arrest for Murder in the first degree and Child Abuse. Dechant was originally charged with aggravated battery, but new charges were made after the child died.
Bond has been set at $1,000,000.