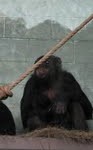 Manhattan's Sunset Zoo welcomed a new addition this week – a baby chimpanzee.  Born Tuesday morning at the AZA-accredited institution, the healthy baby boy is mother Hazina's second offspring at Sunset Zoo.  Mom and baby can be seen by the public beginning this Saturday, March 2 from Noon to 5pm. Due to the cooler weather, the chimpanzee troop will likely be in their indoor exhibit viewable inside the Ballard Gallery along the African Trail.
"Births like this are a testament to our AZA community – a great example of how we ensure these endangered animals are around for generations to come while we work to eliminate the serious threats they are facing in the wild, "said Scott Shoemaker, Zoo Director.
By nature, chimpanzees are a highly social species, living in communities called troops that can range from 15 to 150 members.  Troops have a strong social hierarchy dominated by a male leader.  At Sunset Zoo the troop is lead by the new baby's father, Julian (34 yrs). Other members include mother Hazina (25 yrs), Aunts Hususa (20 yrs) and Susie (58 yrs), and sister Nia (4 yrs).  The troop has been very welcoming of the new addition. For the next three to four years, the new baby will be completely dependent on its mother for care. 
Guests should expect to see Hazina carrying the baby for most of the next year before it begins to start moving around on its own.  While male chimpanzees are typically less involved, they often provide protection for and are seen playing with infant troop members. The next 30 days will be an important period of growth for the new addition.  Zoo staff and volunteers will observe the troop daily to ensure the baby is nursing and meeting appropriate development milestones.  The baby boy will be considered a fully mature adult at roughly 15 years of age.  Sunset Zoo invites the community to help name the new addition at the Zoo's annual Wine in the Wild event co-hosted by the Friends of Sunset Zoo.  Attendees will have the opportunity to bid on the chance to name the new animal on the evening of Saturday, June 1.