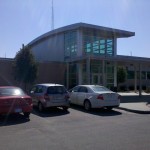 As part of an ongoing investigation into the distribution of illegal substances in Riley County by the Police Department's Special Investigations Unit, an arrest has been made.
Jason Graham, 35, of Manhattan, was arrested in the 700 block of Diebler, Thursday on a number of different charges.
These include the unlawful manufacture of a controlled substance, possession of GHB with intent to distribute, possession of methamphetamines with intent to distribute, possession of marijuana with intent to distribute, possession of cocaine, possession of drug paraphernalia, uses of communications facilities to facilitate drug transactions, four counts of no drug tax stamp, and misdemeanor charges of possession of marijuana and drug paraphernalia.
Graham is being held on a bond of $500,000.
—
A failure to appear has landed a man in the Riley County Jail.
Ronald Schneid, 57, was arrested for original charges stemming from interference with law enforcement, two counts of theft by deception and two counts theft.
Schneid was held on an $8,000 bond.