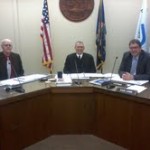 During May of last year, numerous changes were made to Section 18 of the Riley County Zoning Regulations.  The agricultural zoning district was the main item that experienced change, especially with the renaming.  Another change made was the removal of non-agricultural residences as a permitted use in the agricultural district.
County Planner, Bob Isaac brought forward a regulation amendment during Monday's Riley County Commission meeting that would tweek some of these changes in certain situations.  With the changes as they are currently, they are inconsistent with Section 14 of the zoning regulations.  Isaac explained, the recommended amendment would not only make everything consistent, but would allow existing non-agricultural residences to be replaced, rebuilt or refurbished under certain circumstances.
The commission unanimously approved this regulation.
Isaac also shared a request to replat Lots 2, 3 and 7 of the replatted Oak Shores Addition.
Two couples currently residing on the southeast corner of the intersection of Tuttle Cove Road and Oak Shores Road filed a replat request with Riley County Planning and Development.  These requests are brought before the Riley County commission by County Planner, Bob Isaac.  During Monday's commission meeting, Isaac explained this segment of land has been previously replatted.
The lots were originally platted in July of 1962 as Oak Shores Addition, and replatted in December of 1983 when lots 2-8 were designated.  The proposed request asked that lot 3 be split evenly between both conjoining residents.
The commission did not see any reason to not grant approval, and approved the request.
Numerous department heads came forward during the meeting's press conference, as many upcoming events are drawing near.  The events and dates are listed below:
American Red Cross-Manhattan Community Blood Drive-Monday, March 25th

Health Administrator Application Deadline-March 31st
Riley County Livestock Association Spring Meeting-April 2nd
City Commission and School Board Election-April 2nd
Small Cities Spring Clean Up in Riley-April 22nd-24th
The county offices will be getting an updated look soon, as the commission viewed "Hon Furniture" catalogs during the meeting.  Commissioners hope to purchase new desks and chairs to make their offices look more professional.  A Hon Furniture representative attended the meeting to answer any questions the commission had, measure office spaces, and provide recommendations.