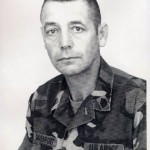 A well respected former leader of the first infantry division has passed away.
KMAN has just received word that Command Sgt Major Fred Davenport, who served as the first infantry division's senior noncommisioned officer from 1989 to 1994 passed away nearly two weeks ago at the age of seventy.
Davenport served tours in Korea and Vietnam as a combat engineer. He served three assignments at Fort Riley before he was selected in July 1989 as the first infantry divisions senior noncommissioned officer.
Davenport retired in 1994 after thirty years of service. Following retirement , he served as vice president of Pioneer Financial Services until January 2011. His wife Virginia "Ginny" Davenport said her husband enjoyed his time with the Big Red One as the best past of his military career. He had a special place in his heart for the division and Kansas, she added.
Graveside services with full military honors were held February 21st at the Kansas Veterans' Cemetary.