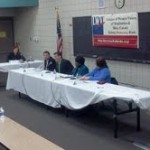 Sunday gave the Manhattan community a chance to listen, as the candidates for the Manhattan Ogden school board were invited to the League of Women's voters candidate forum.
Each candidate had a chance to answer a number of questions, including whether the district should consider armed guards or other protection for the schools, the legislation concerning negotiations and the 3rd grade reading level, also there was questions about moving digital at the high school and middle school.
On to topic of having armed guards at the schools, Pat Hudgins said she believes no one can be on guard all the time, and armed guards or teachers would be a distraction from education, while Mitch Beims stated he believes nothing should be thrown out, and the decision needs to be made by the community.
On the discussion of common core standards, Aaron Estabrook and Marcia Rozell both see the advantages of teaching these standards.
The election will be held on April 2.
To hear the entire USD 383 Forum, visit the "On Demand" section.