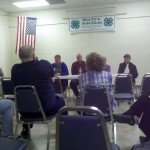 Though attendance was minimal, there was still a good discussion, according to David Stauffer, Manager for Rural Water 1, at Thursday's informational meeting at the Green Valley Community Center.
The Pottawatomie County Commission request to have the meeting to give people a chance to voice concerns as to the issue of not enough water.
Dee McKee, a resident, questioned the Rural Water 1 board on a number of issues, but stated her reason for attending was to gain information.
Though, the majority were residence, Pottawatomie County officials were also in attendance at the meeting.
Pat Weixelman, Pottawatomie County Commission Chair, asked the board about a grant the city of Manhattan was trying to get that would essentially help with the building of the infrastructure associated with the tower that would store water.
The board stated the grant has been taken off of the table as of Thursday.
At this point, the Rural Water 1 board is in negotiations with the City of Manhattan for water.