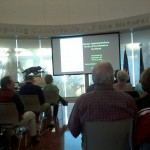 Authors of the book 'Zoobiquity' visited Sunset Zoo to discuss the book and their findings.  Wednesday's presentation and book signing at the zoo followed their presentation at Kansas State University the previous day.
Barbara Natterson-Horowitz M.D. is a psychiatrist who holds numerous titles including:  Director of Imaging at UCLA and Co-Director of Evolutionary Medicine.  Her inspiration for this book came when she went to the zoo with her kids for a zoo sleepover.  After the kids went to bed, the adults stayed up to talk.  She spoke with zoo workers who asked her to come in and do ultra sounds of various animals, including chimpanzees.
Natterson-Horowitz received an interesting call one evening of a chimp with a facial droop.  She did an ultra sound and looked at the chimps heart.  It was then she realized similarities between a chimpanzee heart and a human heart.  The chimp was found to have a disease that caused heart failure.  Natterson-Horowitz had studied this type of disease in humans for many years, and even though chimps are 98.6% similar to humans, it had never occurred to her that illnesses in human bodies could be directly linked to animal illnesses.
She then met a writer at UCLA, and editor at Atlantic Monthly, Kathryn Bowers.  Both women embarked on a journey of research as they began planning out questions they wanted the book to answer.
They began with a general question-"What would happen if we viewed animals as human patients?"  Natterson-Horowitz explained, this question was then broken down into various types of diseases that are in humans, and could possibly be found in animals.  Breast cancer, brain tumors, arthritis, aortic dissection, sudden cardiac death, and sexual dysfunction were some of the human diseases they managed to find in animals.
The pair also took their study past physical similarities, and studied mental health.  Self injury, suicidal behavior, eating disorders, separation anxiety and obsessive compulsive disorder were some of the human mental illnesses found in animals.
The book was not only a collaborative effort of the two women's discoveries, but also the work of several veterinarians, medical students and physicians.
Bowers concluded the presentation by reading the last two paragraphs of the book.