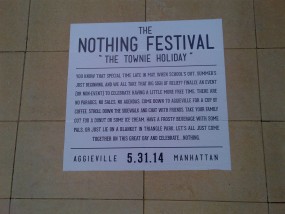 It's no joke, an event held in Aggieville on Saturday, involved nothing.
This was the first year for the "Nothing Festival", and members of the Aggieville Business Association came up with the idea.  The concept is that when students leave, the town becomes quieter and more relaxed.  As a result, people have more time to just walk around and enjoy local business areas, such as Aggieville.  This "townie holiday" promotes just spending time in the area.
Families were encouraged to walk around Aggieville to shop, eat, and socialize. Signs were placed throughout Moro Street explaining the celebration-telling people to grab a donut or some ice cream, have a drink with friends, or relax in Triangle Park.
Employees in every business wore "Nothing Festival" t-shirts to promote the event.