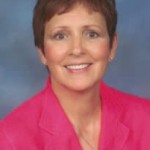 Updated Wednesday morning:
Representative Sydney Carlin, D-Manhattan, announced Tuesday that she filed for re-election to the Kansas House of Representatives. Carlin was first elected to serve the 66th District in 2002. She is the ranking Democrat of the House Agriculture and Natural Resources Budget Committee and a member of House Appropriations, Agriculture and Natural Resources, and the Joint Committee on Claims Against the State.
 "It is an honor and privilege to serve the 66th District, and there is much work to be done," said Carlin. Since being elected Carlin has fought for quality education of Kansans from pre-school through College, as well as improving the Kansas economy in a responsible way. "I believe the best way to improve our economy and strengthen our state is to properly fund public schools."
 "Sydney's priorities in the Kansas Legislature reflect the priorities of Kansas families," said House Democratic Leader Paul Davis, Lawrence. "She has been a strong advocate for delivering a quality public education, keeping property taxes in check, and job creation. I hope the people of the 66th House District will send her back to Topeka to continue her excellent work."
 Rep. Carlin began her public service as a city commissioner in 1993, serving as mayor from 1996-1997. Among her business experience are partnerships in a career employment agency and a retail decorating business. She is an active member of the Manhattan Chamber of Commerce where she serves on the Public Affairs Committee and the Military Relations Committee. She also is a member of the local Workforce Advisory Board and the Seven Dolors Catholic Church.
 Among her accomplishments in the Kansas House was negotiating on behalf of providers of care and families for legislation providing insurance coverage for Applied Behavioral Analysis (ABA) therapy for children with Autism Spectrum Disorder. Not satisfied completely with the outcome in the bill that passed, she is working to improve several components of this bill in the coming session. In 2005, she introduced the Kansas False Claims Against the State Act which has allowed the state to collect millions of dollars from fraudulent claims through the Federal false Claims. Act.
Sydney and her husband John, have been longtime active members of the community, serving on a dozen or more community boards. They raised their four children in Manhattan schools and have 13 grandchildren. The election will take place on Tuesday, November 4, 2014.
####
Representative Sydney Carlin told KMAN late Tuesday afternoon that she has filed for re-election for the 66th District Kansas House seat she currently holds.
Carlin, a former Manhattan City Commissioner who served as Mayor in 1996-97 has served in the Kansas House since 2003. Carlin, a Democrat successfully fended off challenges by Republican Lee Modisett in both 2010 and 2012.