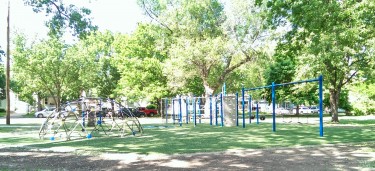 The City of Manhattan celebrated the revitalization of Long's Park with a re-dedication ceremony Thursday afternoon.
"The facility's been redone, we've got a walking trail, the nicest thing is there's a restroom here now that folks can use, which of course wasn't here before," said Wynn Butler, mayor of Manhattan. "And we've got a new playground put in place and its got a surface there so you won't skin your knees when you fall off the bars."
The park was originally swamp land before Archie Long, owner of Long Oil Company, established the park in 1926 as a stop-off point for motorists travelling on the old Highway 40.
"They would stop by here and stay in trailers, and the little open-area pavilion that's here that has the fireplace here in it used to be a comfort building which had hot plates in it which you could put a dime in and you could heat your food. And Everything else was free if you stayed here overnight, so it's got a very storied history," Butler said.
While his father was stationed at Fort Riley in the late 1950's, Butler would often play at Long's Park as a kid as his family live just down the street.
"We would come up here and play ball and stuff and then there was a Cream Cup, I think was the name of the ice cream place, was across the street and we always had ice cream there," Butler said. "It's been a long time, so it's sort of strange to remember playing here as a kid and then come back and get the honor of help rededicate it as the mayor."
Wyatt Thompson, park planner for the City of Manhattan, was instrumental in facilitating the improvements to the park and said the project was primarily financed by a Community Development Block Grant, administered by the Department of Housing and Urban Development (HUD).
"Long's Park was an eligible site for those type of improvements and we were able to channel those funds into all of the improvements that were made here."
Looking head to future projects, Thompson said the City will seek a consultant who will plan a comprehensive update to the indoor and outdoor sports facilities around town.
"That will take up some time here over the next few months identifying that consultant and then working with them to identify the improvements we're gonna make to those sports facilities over the next 5 or 6 or more years."
To learn more about the history of Long's Park and the man it's named after, visit http://www.enarco.com/long.htm