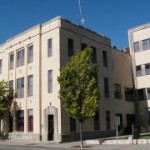 Riley County resident, Steve Springer requested access across a 0.36 acre real property owned by the county.  He made this request with the county planning and development department, in order to develop an adjoining 78 acre parcel of land into a zip line recreational park.
Springer spoke to Riley County Commissioners during their meeting Thursday, and told them that he is willing to buy the property.  He indicated he did not completely understand the value of the property though.
County Appraiser, Greg McHenry had done the property estimate, and had declared that the property was worth $6,750.  Commissioners agreed with this estimate, and said there are a lot of factors that go into finding a property value.
They approved to authorize the purchase of the land, as requested, for $6,750.  Springer thanked commissioners for selling him the property rather than sending it out to bid.
Commissioners will sign an official resolution regarding this matter during their next commission meeting.
————–
A couple of other agenda items were approved during the meeting, including RCPD Police Captain, Tim Hegarty's request for the Edward Byrne Memorial Justice Assistance Grant.
The other item approved also involved a grant, as Emergency Management Coordinator, Laurie Harrison asked that commissioners approve and sign the Emergency Management Performance Grant.