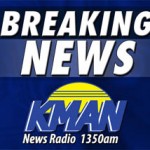 The Fort Riley soldier that was discovered deceased from a gunshot wound on Monday afternoon  has been identified.
KMAN received word around 5 o'clock Tuesday afternoon that the man was identified as Shawn Thomas (26).  Junction City Police reported that Thomas was assigned to the 31st AV, E Co. on Fort Riley.
The incident  is still under investigation, and an autopsy was scheduled to take place some time Tuesday afternoon.