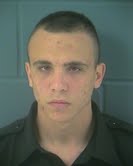 A Manhattan man faces several charges, including aggravated indecent solicitation of a child, following his arrest late Tuesday afternoon. Junction City Police reported the arrest of Trevor Triffet, 20, on charges which also include electronic solicitation and sexual exploitation of a child.
 The JCPD report indicatesTriffet was arrested shortly before 4:30 p.m. in Manhattan.
JCPD Lt. Jeff Childs tells KMAN the case involved electronic devices used for communication, and included pictures and text messages that were sent. The victim is described as a 12-year-old female. Childs indicated the exact time of the crime was difficult to determine, although it could have been going on for a few weeks. It just recently was brought to law enforcement attention.