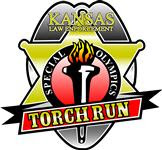 It is expected that 950 officers from over 95 agencies will carry the "Flame of Hope" throughout 30 counties in Kansas as they travel to the annual Special Olympics Summer Games held in Wichita. The Law Enforcement Torch Run (LETR) is a series of statewide runs which will travel approximately 1500 miles throughout the state. Law Enforcement Officers, along with Brayden Hugunin of Burlington, Most Inspirational Athlete of 2013, will light the cauldron to officially open the Summer Games in front of over 3,000 athletes, coaches and fans of Special Olympics on June 6.
97th MP BN will execute the annual Fort Riley Law Enforcement Torch Run in support of the Fort Riley Kansas DES on Thursday, June 5, 2014.
At approximately 1:30 p.m. the 97th MP BN/DES will receive the torch at the Ogden Gate from Riley County PD. The DES/97th MP BN will run from Ogden Gate along Huebner Avenue to Grant Park (6.2 Miles). The formation will have one lead and one trail patrol vehicle. The final handoff will be at Grant Park where the torch will be handed to the Junction City PD at approximately2:30 p.m.
The Law Enforcement Torch Run began in Wichita, Kansas in 1981 with six runners and has grown to an international program that involves thousands of Law Enforcement personnel raising millions of dollars annually to benefit Special Olympics programs in the United States and abroad.
The Torch Run is the largest grassroots fundraiser and public awareness vehicle for Special Olympics. Officers volunteer hundreds of hours each year and in 2013 raised $451,482.00 in support of Special Olympics Kansas programs. This remarkable feat was accomplished by holding events and fundraising through the statewide torch run, special event fundraisers (i.e. Polar Plunge, truck convoy), sponsorships and donations. Ed Pavey, Director of the Kansas Law Enforcement Training Center is the Honorary Chair of the Law Enforcement Torch Run. Kalmar Industries & Amerigroup Kansas are Guardians of the Flame.