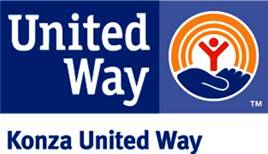 The local United Way has officially changed their name.
The organization's new name is Konza United Way.  This marks the second name change in the group's 70 year history.
The new name is designed to incorporate the regional influence and service area that includes-Clay, Marshall, Riley, Wabunsee, Pottawatomie and Washington counties.
"Our new name reflects the regional nature of our local United Way and pays respect to our prairie heritage", said Board Chair, Jeff Morris.
Konza United Way's goal is to focus on the building blocks for a good life:  education, health and income.
Executive Director of Konza United Way, Lee Ann Smith Desper said, "our new name demonstrates our commitment to improving the lives in our region".