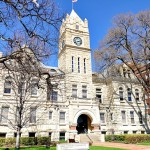 Several major crimes were linked to one Manhattan man back in early April, after an armed robbery took place outside a business on Anderson Avenue.  That man appeared in Riley County District Court for his preliminary hearing on Tuesday.
As KMAN has previously reported, the Riley County Police Department received a 9-1-1 call from Richard Rothfuss (69) of Junction City, on the afternoon of April 6th this year.  The alleged incident involves Rothfuss being held at gun point and asked to drive to another location by a man.  Jerred Snyder (30) was arrested in this case, as well as other related theft cases.
Rothfuss was the first witness called to the stand in Judge William Malcolm's courtroom.  He indicated he was in town to purchase flowers and plants for his garden that day.  He said he stopped at the Shop Quik store on Anderson Avenue, and had parked his 2014 Chevy pick-up outside the business.
When Rothfuss exited the store and got into his pick-up, he said a man came to the window and was holding a gun in his right hand.  According to Rothfuss, the man got into the vehicle on the passenger side, and said "we are going for a ride", and said if Rothfuss did everything he asked that he probably wouldn't be shot.
Prosecuting State Attorney, Barry Disney asked that Rothfuss share what route Snyder ordered him to take.  Rothfuss said he was instructed, by Snyder, to go down Anderson and then north onto Seth Child Road.  He said they traveled several miles down a gravel road, when Snyder asked him to stop the truck.  Rothfuss indicated that Snyder took the keys, and then asked Rothfuss to get out.
When out of the vehicle, Snyder asked if Rothfuss had anything he could tie him up with.  Snyder tied Rothfuss's hand up with a tow strap, but did not manage to tie his feet, as it was difficult to do.  After Rothfuss was tied up, the man began to pull away, but stopped yet again.  Rothfuss said he came out of the truck again and demanded his ATM number,which Rothfuss gave to him.
After Snyder had left with the truck, Rothfuss began to walk, and he said he knew he had a long way to go.  He finally came to a house and asked the family if he could call 9-1-1.
Once Rothfuss had answered all of Disney's questions, Disney asked him if the defendant is the man that had the gun that day.  Rothfuss answered "yes".  Rothfuss also mentioned he had $450 in cash in his bill fold that day, as well as $150 in the truck.
Defense Attorney, Larry McRell asked for more specific details about the incident at the Quik Shop.
Rothfuss mentioned he did not recall making a written statement for police that day, and that he suffered no physical injuries from Snyder.  He also mentioned it "seemed like he (Snyder) had a plan", and that it didn't take him long to get untied when Snyder left with his truck.
Another witness called to the stand was Dianna Philippi (61) of Manhattan.  Phillipi had reported to police that Snyder was her former roommate that that he had taken some of her personal property from her home.
After she was sworn in, Philippi mentioned it was April 3rd when she noticed the items were gone.  She reported to police that day that some of the items taken included-night vision binoculars, a hunting knife, a projecter, a tablet, and a video camera.  She indicated all of the items exceeded $1,000 when added together.
McRell asked Philippi about her role as house mom of the Kansas State University Phi Kappa Theta Fraternity house.  She said she usually spent around 27 days out of the month at the fraternity house instead of her residence, where Snyder rented a room from her.
Three other witnesses were questioned during the preliminary hearing-Riley County Police Officer, Brian Johnson who investigated the robbery of Rothfuss, Detective, Spencer Parsons who investigated the pawns and Manhattan Pawn Shop Owner, Bruce Michal, who signed the pawn slip when Snyder reportedly pawned several stolen items.
Both the kidnapping case and the theft case were discussed seperately.  After the kidnapping case concluded, Judge Malcolm found probable cause and bound him over on the charge, and he also did the same for the theft charge.  Malcolm set both cases with Judge John Bosch on June 16th at 10:30 a.m.
McRell also asked to address bond, and asked the total for both bonds be reduced to $50,000, as Snyder has strong family ties to the community.  The current total bond was $125,000 for both charges, and Disney asked that the judge would deny the request to lower it.  Judge Malcolm did deny the request, as Disney had suggested.