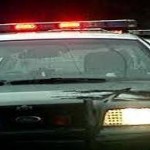 An aggravated assault report was filed in the 200 block of Riley Ave. at approximately 7:30 Thursday evening in connection with an incident that occurred less than an hour earlier. The victim identified as 45-year old Jerry Morehead of Ogden reported to police that a suspect known to him had brandished a small knife in a way that was perceived to be a threat. The suspect is a 38 year old male who has not been arrested pending further investigation into an apparent verbal argument which had escalated. No injuries were reported and this incident is believed to be isolated and not a threat to the surrounding community.
###
Kevin Brown, 31, of Junction City was arrested while at the Riley County Police Department on a warrant for motion to revoke probation from Geary County. His bond was set for $5,000.00 and but he's not being held at the Riley County Jail.
###
Riley County Police filed a report for burglary in the 2600 block of Tobacco Circle in Manhattan at approximately 1:30 Thursday afternoon for an incident that occurred between May 5th and 21st. Carson Real Estate from Manhattan reported that four pieces of door hardware were removed by an unknown subject or subjects to include handles, latches, and plates. The items were delivered and being prepared for installation at the time of the theft. The total estimated loss is $2,400.00 and officers continue to investigate the matter further.