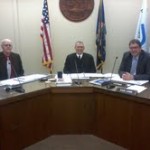 Although the item was brought to the Riley County Commission a week ago, commissioners revisited the topic during their Thursday meeting to finalize the sale.
County Counselor, Clancy Holeman provided a brief review of previous discussions, as Steve Springer has expressed interest in purchasing a .36 acre piece of land from the county for a zip line recreational park.
Holeman has been assisting Springer with the process, and has been in contact with title companies to look into the next steps.
The commission unanimously approved the resolution, and the review of a publication notice, authorizing the sale of the real property.
———————
Three bids were submitted for the Engineering Design for Tuttle Creek Fire Station bid opening.  All three bids came from Manhattan companies.
Action Pact Design submitted a bid of $36,247.50, and BG Consultants submitted a bid of $37,049.  The last bid came from Bruce McMillan AIA Architects, who did not submit a specific price.  The company did state within the bill, that their price would not exceed 12% of the building cost.
All of the bids were approved to move forward for staff evaluation and recommendation.
———————-
With budget time getting closer, several local entities and department heads will soon present their budget requests to the commission.
Community Corrections Director, Shelly Williams took the time during the meeting to share her request for the appropriation agency recipient consideration.  Williams mentioned most of her budget is personnel, and if things don't look better for fiscal year 2015, she may have to make some personnel cuts, which would ultimately impact public safety.  The commission told Williams they'd like to see more information when she returns to the commission with her budget request next month, and thanked her for making the commission aware of the situation.
Erica Christie, of Three Rivers, also shared her funding request for the commission.
———————–
Riley County Health Department Nursing Supervisor, Linda Redding shared background on two grants.  The first was the March of Dimes "Becoming a Mom" grant, and the second was a healthy families contract renewal.
Both were approved unanimously.