At approximately 3:45 P.M. at the intersection of Tuttle Creek Boulevard and Ehlers Road, a three-car accident occurred, causing redirection of southbound traffic by the Riley County Police Department. The Manhattan Fire Department and EMS was also on the scene, assisting accident victims.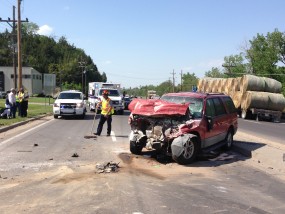 Officer Steven Melvin of the RCPD told KMAN's Mikayla Gentine that the police department is looking for the driver of a black Nissan Sentra, who turned onto Tuttle Creek from Ehlers Rd., causing the wreck.
According to authorities a Nissan Sentra pulled past the first northbound lane into the second, cutting off a tow truck, who then slammed on the brakes. The driver of the wrecker was unable to keep control of his truck and slid into southbound traffic, striking a Ford Explorer and a Pontiac Grand AM. The Ford caught fire and the passengers were temporarily stuck in the vehicle, but were able to escape with minor injuries.
A couple of passengers were taken to Mercy Regional Health Center for treatment of minor injuries. Riley County Police are seeking the driver of the Nissan Sentra, described as a white female. Anyone with information is asked to call RCPD or Manhattan/Riley County Crimestoppers.