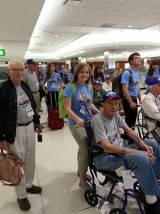 Twenty five area Veterans departed from the Kansas City (MCI) airport on Tuesday, (May 27), to travel to Washington, DC. to visit the War Memorials erected to honor their service and sacrifices to our country. Students from Wamego High School have been paired with the veterans to serve as student "guardians" and will assist the veterans on the trip.
 During the two-day trip, 8 area WWII veterans, 17 Korean War veterans and students will visit the WWII Memorial, Korean Memorial, and Vietnam Memorial Wall. In addition, the group will tour Arlington National Cemetery and the Tomb of the Unknown to observe the Changing of the Guard. They will also visit the U.S. Naval Academy in Annapolis, Maryland. The trip is sponsored by Honor Flight Wamego High School, the local hub of the Honor Flight Network.  "The experience will provide a life-changing opportunity for veterans and students alike, allowing our next generation to connect with the 'Greatest Generation,'" explains Wamego Coordinator, Shawn Hornung. The effort has been supported by local community members, area businesses, various fundraisers and grant support from several local organizations.
Community members are invited to welcome local heroes back to Kansas upon their return on May 28. The estimated arrival time is 8:30PM. To welcome the veterans home, students, family members of the veterans, and community members can line up along Lincoln Street in Wamego in front of the High School building. The Wamego Community Band and representatives from the American Legion will also help welcome the veterans with flags and music upon their return. Parking space will be available in the faculty parking lot outside of the upper gym, and the student parking lot located in the back of the school.
Honor Flight Network's mission is to transport America's veterans to Washington, D.C. to visit those memorials dedicated to honor their service and sacrifices at no cost to the veteran. Current priority is for our most senior veterans to visit their memorial. Subsequent to the World War II Veterans, efforts focus on Korean War Veterans followed by Vietnam War Veterans, honoring them both in a similar manner. Guardians accompany each Veteran to ensure safe travel. With continued contributions, the organization hopes to make additional trips on an annual basis. In consideration to the advancing age of the men and women who served in WWII, time is critical. This is the second trip for the Wamego group; last year, the school partnered with Lyndon High School for the inaugural Wamego flight.
 For additional information about Honor Flight Wamego High School, to obtain a veteran's application or for more information about the upcoming trip, contact Shawn Hornung at hornungs@usd320.com or 785.456.2214. Tax deductible contributions may be sent to the Wamego Community Foundation, to the Honor Flight Fund, PO Box 25, Wamego, Kansas 66547, or online at www.thewcforg.