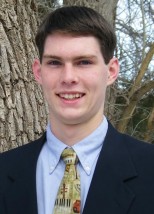 On Saturday, May 24, Ben Wilson announced his plans to run for Riley
County's County Commission. Ben is a senior at K-State, majoring in music and minoring in
political science.
"We need strong leadership that is careful in how it spends taxpayers' money and makes
Riley County the best it can be for our families and businesses," Wilson said. "After much
encouragement, thought, and prayer, I've determined that serving on the County Commission is
the best way for me to help that happen."
Wilson is from the Manhattan area and has been involved in politics for the last several years.
While still in high school, he participated in city commission debates, and more recently interned
with a US Congressman, a state senate campaign, and two sessions with State Representative Jim Howell.
Rep. Howell says, "I know from experience that Ben is an effective public servant that his county
can trust. As my right hand helper these last two years in the statehouse, I have seen Ben handle
every challenge I sent to him. He is eager to help people and gives 110% all day, every day."
Ben is secretary of the K-State College Republicans, serves in leadership positions in four
other student groups, and teaches violin lessons. He is also the current Republican precinct
committeeman for Ogden Township.