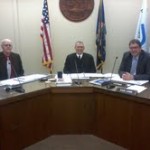 "It's going to be a tough budget year. We have some tough decisions we'll have to make", commented Riley County Commissioner, Dave Lewis, as 2015 budget requests continued during Thursday's commission meeting.
Most county department heads monitor several funds within their budgets. A few of these department heads shared their budget requests throughout the meeting, including Budget and Finance Officer, Johnette Shepek; County Clerk, Rich Vargo and Public Works Director, Leon Hobson.
For the 2015 proposed budget, Hobson asked for $3,042,000. This is for contractual, commodities and capitol, and does not include personnel. This would be a $156,000 increase from 2014. Hobson explained that the main reason for the larger budget is because asphalt prices have recently increased.
The budget process will continue with other requests, and the final budget will be adopted in August. Members of the public are invited to attend all of these budget discussions.