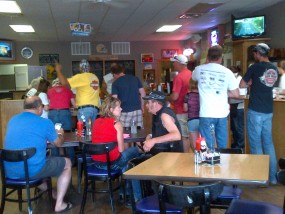 This was the sixth year for the Annual Nelson's Landing Benefit.  The event kicked off Friday evening with a Jordy Nelson autograph signing.  On Saturday, the golf tournament began in the morning, the poker run took place at noon, and a live auction was held that evening.
This year's benefit was for Dylan Easterberg (7) and Megan Wheartyl (22).
Easterberg was diagnosed with a cancerous Wilms Tumor back in October.  He underwent surgery to remove it, and the doctors also removed his left kidney.  Easterberg's mom, Holli, mentioned he has completed 18 weeks of Chemotherapy treatments, and will continue a maintenance antibiotic one a month for the next sixth months.  He also will have regular scans every three months for the next three years.
When asked about what it means to her, to have Dylan honored during the benefit, Holli began to get teary-eyed.  "It means so much to us.  The community and our family has been everything for us, so we are just so very thankful and grateful for everything", she said.
Dylan was in attendance for the event, and was wearing his Jordy Nelson jersey on Saturday.
Whearty was diagnosed with Cystic Fibrosis when she was born.  Her daily routine consists of breathing treatments, chesty therapy and several pills.  She has experienced 20 surgeries, and will never know what it is like to take a full breath.  Her breathing could be compared to a normal person breathing through a straw.
Despite all she has been through, she graduated from Kansas State University in May and will be getting married next May.