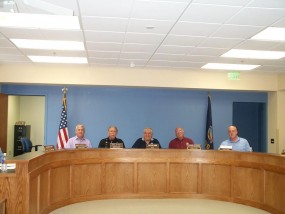 The Wamego City Commission approved items from the last meeting. At Tuesday's meeting, Building Official Mac Campbell presiding in the absence of City Manager Merl Page, reviewed the request from BG Consultants to establish a benefit district for access off of Highway 24 to the North Ridge Apartment complex Unit 3. Campbell said the City was approached by the developers to approve BG Engineering Consultants of Manhattan as the Engineers on the project. He said this is a City of Wamego project and recommended approval of the request. Approval was given.
Also, the Commission approved four Benefit District Petitions filed by BG Consultants for the Highway 24/North Ridge Apartment improvements. It was determined the improvements were advisable and to move forward. The cost of the 4 elements of the projects will be over 1 million dollars with the City's share over $100,000. The Benefit District will be responsible for the remainder.
—————————
The commission is getting ready for the July 4th celebration. At Tuesday's meeting, City Clerk Shanda Jahnke  said the City staff is working on parking modifications for the 4th activities. She said Parking Supervisor Rick Asbury is evaluating and will determine if parking on one side of the street from Balderson Boulevard on both 7th and 8th streets to Lincoln Avenue is the best solution. The Commissioner's discussed past parking problems during the July 4th celebration, and will approve the best solution.
In other business, the Commission approved the annual contract with Utility Consultants for the City's random drug testing program.
Building Official Mac Campbell reported the Highway 24/Kaw Valley Road project is in its final stage with an open contract for seeding and final cleanup. On the Power Plant, he reported "a lot's been done, with a lot yet to do".