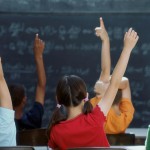 As part of the process of finding a new Commissioner of Education, Kansas State Board of Education members have been traveling throughout the state to hold focus group meetings to hear from local individuals about public education.
A focus group meeting was held at the Robinson Education Center here in Manhattan Monday evening, as District Six Board Member, Deena Horst facilitated the discussion.
Participants focused on three questions in particular:
1. What are the good things about education in Kansas?
2. What are the most critical educational issues in Kansas in the foreseeable future?
3. What experiences, skills and characteristics do you believe are essential for the next Kansas Commissioner of Education that will enable the individual to successfully address the issues mentioned?
Most of the participants had similar answers for the first question-many in which involved the sense of community in Kansas schools.  Other answers included "good teachers" and "the change to all day kindergarten".
As far as critical educational issues, most of the discussions involved the lack of funding.  One person in particular brought up the future teacher tenure repercussions, as the state board and legislature "butt heads".  They said these types of arguments ultimately impact the children.
Several qualities and characteristics were brought up as far as what the new commissioner should have.  Some included-advocate for education, a good salesman, finance savvy, relating to all different kinds of people and districts, innovative, and willingness to listen to everyone.
According to Horst, the information from these discussions will be sent to a secretary that will compile the input.  They hope to have a new commissioner by November.