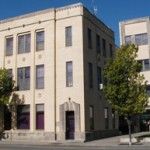 Currently, concealed carry signs are posted on a few of the Riley County buildings.  If these signs were to remain, both opened carry and concealed carry would be prohibited on July 1st, according to County Counselor, Clancy Holeman.
With House Bill 2578 becoming effective on July 1st, Holeman shared his recommendations with commissioners during Thursday's county commission meeting.
As far as the Carnegie building and the courthouse, Holeman advised that the signs be left in place.  That will automatically prohibit open carry by both the public and employees.  However, with courthouse plaza east and the office building, he recommended removing the signs.  In place of this signage, Holeman recommended putting the open carry signs up.
Commission Chair, Robert Boyd was absent, but Commissioner, Ron Wells and Commissioner, Dave Lewis stated they agree with Holeman's recommendations.  Nothing was officially approved regarding this matter, and the commission will discuss the possibility of adding signage at some of the other 39 buildings the county owns.
———————-
The only other item on the agenda was a staff update by Interim IT/GIS Director, Dawn Shoffner.