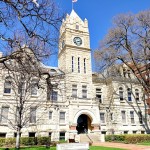 An armed robbery took place at Dara's Convenience Store back in November of last year, and the man charged in the incident was sentenced in Riley County District Court Monday.
Travis Bowman (23) was originally charged with felony level aggravated robbery on November 26th, and his bond was set at $75,000.
Bowman appeared in court, alongside his attorney-Phylemon Yau.  During Bowman's final statement, he said "I'd like to apologize to the court for their time and resources, and the victim for any emotional damage I may have caused."
Yau said Bowman was not taking his medication at the time, and asked that the sentence be 80 months.
Prosecuting State Attorney, Barry Disney pointed out Bowman had two prior attempted robbery convictions, and asked that he get 206 months.
Chief Judge Meryl Wilson went with Disney's request, and sentenced Bowman to 206 months, or a little over 17 years, with the department of corrections.