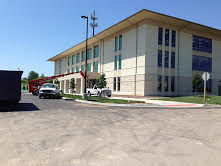 The Department of Agriculture announced their big move from the capital city to Manhattan a while ago, and the time has finally come.
Their new location opens for business on Monday the 16th next to the NBAF building on the edge of the K-State campus, which is still currently under construction.
Department of Agriculture Assistant Secretary Jake Worcester says that it "just makes sense" that his department would move to the heart of aggie country.
"The building project has actually gone extrodinarily well. It is a very nice facility, and we're excited about moving in. It's going to be very condusive to the kind of work environement and work culture we're trying to strive for."
Although a few employees have moved onto different careers with the support of the Department of Agriculture, as many as 50 employees will carpool from the Topeka area daily, and some employees have even made a new home in the Manhattan area.