A 49-year-old Manhattan man was killed in  a truck/bicycle accident Thursday evening. According to police reports Mark Jilka was riding a bicycle when he was struck from behind by a  Dodge Pickup on K-177 shortly after 7 p.m.   According to the Kansas Highway patrol, the pickup, driven by Derik Kesler, 32, Rossville, was also southbound on the right shoulder when the accident occurred. The bicyclist came to rest in a ditch, with the truck remaining on the shoulder. Kesler was not injured.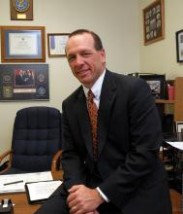 In an interview with Riley County Police Director Brad Schoen on Friday morning, KMAN learned the driver of the vehicle might have been distracted by his cell phone.  Schoen said the department is forwarding a report on the incident to the county attorney's office so he can considered potential charges against Kesler.
On the topic of using your cell phone while driving Schoen says, "If you're on your cell phone not paying attention, or know somebody that tends to do this, or see somebody you're riding with do this…ask them how they'd feel if they were the one who'd hit somebody on the side of the road and killed them?"
The city of Manhattan approved an ordinance in 2010 prohibiting the use of cell phones and other personal devices while operating a motor vehicle unless its hands-free.
Director Schoen said while driving a vehicle you have a "moral obligation to help take of other people and pay attention to other people while you're operating a thousand pound bullet moving down the highway."
Statistics in 2011 showed that at least 23% of auto collisions involved cell phones.  Authorities say texting and driving can be compared to drinking and driving.  Looking at your cell phone distracts you from the task at hand and can prove fatal as it may have in this case.