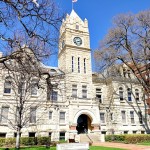 During his previous court case, he waived his right to a preliminary hearing, and Monday his jury trial was set in Riley County District Court.
Garret Olson (22) was charged with involuntary manslaughter after an accident in October of last year, where Trevor Redding (17) died.
Olson made a plea of not guilty to the involuntary manslaughter charge, as well as two additional charges including failure to remain at the scene of an accident.
After getting results from a blood test, it was also found that there was alcohol in Olson's system, that was over the legal limit.
Olson's jury trial is set to last five days, beginning on November 17th.