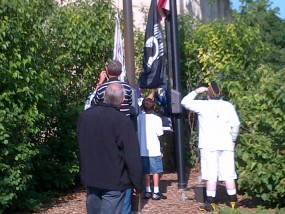 Several members of the public, Manhattan City Commissioners, and veterans attended a flag ceremony, held at Manhattan City Hall, on Saturday morning.
The event began at 9:00 a.m., as members of Chapter 28 Disabled American Veterans (DAV) took down the old American flag and the old P.O.W. flag.  These old flags will be taken to Walmart, where they will be retired properly.
New flags were raised, and Manhattan Mayor, Wynn Butler shared a few words.
"Flag day is a day to celebrate the United States, and today is also the birthday of the United States Army", Butler commented.