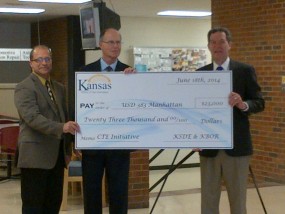 Manhattan Area Technical College got a visit from Governor Sam Brownback Wednesday afternoon, as he presented a check to Manhattan/Ogden USD 383 Superintendent, Bob Shannon, and USD 383 School Board President, Curt Herrman, for the district's accomplishment in the Senate Bill 155 initiative.
Several individuals were present, including a few USD 383 school district employees, Representative of the 66th District, Sydney Carlin and Representative of the 67th District, Tom Phillips.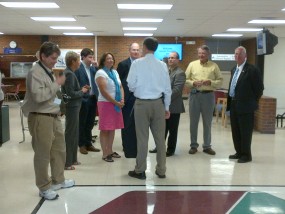 "The $23,000 is to encourage technical education in high school", said Governor Brownback.  He added that he actually went to technical college for vocational agriculture, and said it's important to keep these schools alive.
Superintendent Shannon mentioned another part of the law that is not included in the $23,000.  "The tuition charge that would ordinarily go against them personally for taking courses at the technical college is now provided to the state", Shannon commented.  He added he believes this is beneficial for not only the student, but also the school.