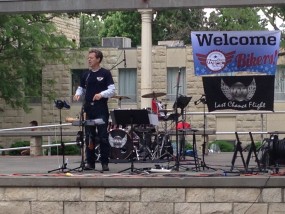 Governor Sam Brownback welcomed the hundreds of motorcyclists participating at the third annual Governor's Freedom Rally Saturday, held in Junction City, with a tour through Fort Riley. The Governor talked about the three causes the rally benefits, which include the Wounded Warriors, Brothers in Blue at Lansing, and the Flint Hills National Scenic Byway, thanking those attending for their support.
The Governor also mentioned to KMAN during a separate interview that he also likes to promote safe motorcycle riding, adding that his Big Dog motorcycle, which was built in Wichita, is one of the most fun things he owns. He says he loves his motorcycle, but "you've got to be careful." He says he rides fairly often in the summer, but mostly just to and from work.  He describes the Flint Hills as a glorious and delightful  place to ride a motorcycle, with the nice winding roads, beautiful green, and cattle out in the pasture.
Geary County Sheriff  Tony Wolf admitted the weather had him a little nervous in the morning with the rain, but says the weather worked out great by clearing off,  with the breeze and temperature making it perfect.  He said he had to beef up crews just a little for traffic control, getting the motorcyclists through town.
Following a brief opening ceremony at noon, a wreath ceremony was held at the Veteran's Memorial at Heritage Park. The tour of Fort Riley followed.