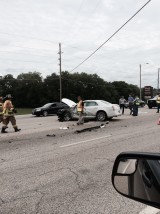 Update at 1:30 p.m.:
Riley County Police Public Information Officer, Mat Droge says the accident occurred between two vehicles-one car and one SUV.  No major injuries were reported and Droge commented, "it looked much worse than it ended up being thankfully".
EMS and Fire crews have left the scene, but police are still working in that area.
KMAN will provide additional details as they become available.
Original Story:
An injury accident is said to have taken place just after 12:30 this afternoon, on Amherst and North Seth Child.  Early reports indicate there is possible entrapment, but no additional details are available at this time.
Traffic is backed up, and drivers should expect possible delays or re-routing.  If possible, drivers should avoid the area.