By Chris Kutz, K-State Athletics Communications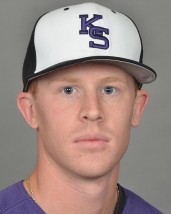 Junior Austin Fisher was the lone K-State Wildcat taken on the final day of the 2014 Major League Baseball (MLB) First-Year Player Draft as the shortstop was selected in the 13th round (398th overall) by the Cleveland Indians.
Fisher became the third Wildcat overall to be taken in this year's MLB Draft, joining senior outfielder Ross Kivett (6th round, Detroit Tigers) and redshirt junior outfielder Mitch Meyer (7th round, Milwaukee Brewers).
The three draft picks in the first 13 rounds are the most for K-State since it had four in 2011. In the last four years, nine Wildcats have been selected in the first 13 rounds, which is the fourth-most among Big 12 teams.
K-State is second among Big 12 teams with 11 position players drafted since 2011. TCU, which joined the Big 12 Conference in 2012-13, has had 12 position players drafted in the last four years.
K-State signee Connor Goedert was also drafted, taken by the Houston Astros in the 15th round (436th overall). Goedert, who played for Neosho County Community College the last two years, hit .446 and led the nation in home runs (19) and RBI (90) this past season. He was named to the NJCAA All-America First Team earlier in June. He is the brother of former Wildcat and current Toronto Blue Jays farmhand Jared Goedert and son of former Wildcat Joe Goedert.
A native of Lenexa, Kansas, Fisher started all 55 games for K-State at shortstop in 2014, hitting .300 (62-for-207) with seven doubles, one triple, two home runs, and 34 RBI. He also set career-bests in walks (25) and stolen bases (6).
Over his K-State career, Fisher owns a .327 batting average and .417 OBP while tallying 36 extra-base hits and 74 RBI. In 2013, the Olathe Northwest High School product was named to the All-Big 12 First Team as well as a semifinalist for the Brooks Wallace Award (nation's top shortstop) and Gregg Olsen Breakout Player of the Year Award.
Fisher's selection marks the second straight year Cleveland has drafted a Wildcat after Kivett was drafted in last year's 10th round. The Indians have drafted seven Wildcats since the first MLB Draft in 1965.
Fisher's father, David, was drafted in the 29th round of the 1992 MLB Draft out of Missouri Southern State University by the Philadelphia Phillies.