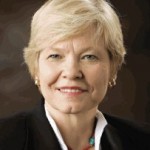 A last minute candidate who is not new to the political arena has filed for the Pottawatomie County Commission seat against current commissioner, Gary Yenzer.
Dee McKee has announced she will be running for the position.  McKee has participated in past election processes, including running for the 51st district seat two years ago.
She also ran against 66th District Representative Sydney Carlin in 2008.
With the noon deadline Monday–it appears three area races for State Representative are uncontested for the August primary. St. Representative Sydney Carlin of the 66th district, Tom Phillips of the 67th, and Ron Highland of the 51st District have no opposition. Three candidates are vying for the 64th District seat being vacated by Vern Swanson– Glen Hawkins, Kathy Martin and Susie Swanson.