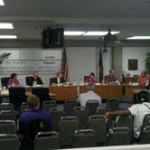 Manhattan Ogden USD 383 School Board members closed their last meeting of the fiscal year, Wednesday evening, by discussing interests in officer positions for the coming fiscal year.
Current Vice President of the Board, Leah Fliter informed her fellow board members that she would be honored to run for the president position.
Board Member, Darrel Edie expressed his interest to run for the vice president position, and mentioned he will have more free time next year in order to fulfill the potential increase in commitment.  Although she was absent, Board Member, Marcia Rozell is also interested in running for the vice president position.
Since this was his last board meeting as president, Curt Herrman thanked several individuals for their help and guidance over the past year.
——————
A few items were approved during the meeting, including the acoustic wall panel improvements for four elementary schools and the Amanda Arnold HVAC unit relocation.
Concerns were raised during the agenda item involving collaboration time for 2013-2014.
Executive Director Teaching and Learning, Carol Adams primarily spoke on this topic, but several board members had questions about the survey results.
A district-wide professional development needs assessment was formulated, as well as an assessment for elementary teachers.  A few of the board members believed the numbers and percentages looked a little low.
Adams reminded the board that the numbers are an improvement from last year, and said she believes many of them show positive feedback.