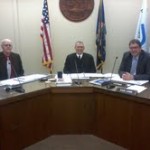 "567,736,926.  That is the overall assessed evaluation.  This is a 2.78% increase from last year.  That is the lowest increase we have had in two years", commented Riley County Clerk, Rich Vargo, as he shared the value of the mill with county commissioners during their Monday meeting.
Budget discussions continue to take place, as budget sessions will continue in the coming weeks.
Although department heads have already submitted their budget requests for the 2015 year, County EMS Director, Larry Couchman had a large change to make.
Couchman had budgeted for four 12 hour employees, in order to better serve the growing needs of the county.  After reviewing this, it was decided that six 24 hour employees would be more beneficial for the county.  He added that an additional ambulance would be needed as well.
This would be a $95,000 increase in his budget, taking it from $937,937 to $1,032,937.
The next budget session will take place during the commission meeting on Monday, June 30th.
During Budget and Finance Officer, Johnette Shepek's presentation of the 2015 budget development worksheet, she shared some of the impacts on the revenues and expenditures.
According to Shepek, one major impact on revenues is the elimination of the mortgage registration fee, because of the recording fees that will be lost.