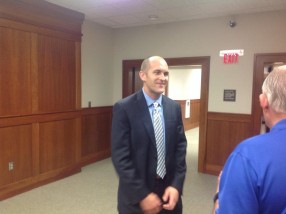 Kiel Mangus has been named Assistant City Manager for the City of Manhattan effective Monday, July 14. Ron R. Fehr, City Manager, announced the appointment Thursday.
Mangus will be responsible for directing legislative and intergovernmental activities to facilitate interaction among City officials, City management and the state Legislature along with congressional offices, as well as other county, city and regional government officials; will serve as the City Manager's designated representative to the Riley County Law Board, staff liaison to the City-University Special Projects Fund Committee, and other committees; and will perform administrative activities related to a wide range of municipal functions under the general direction of the City Manager. He will also work with administrative staff on activities and projects; assist with the day-to-day management of operations of the City; and participate in meetings of the City Commission and intergovernmental public agencies. Other duties include personnel management and budget analysis and management.
Fehr said, "I am pleased to announce the hiring of Kiel Mangus as Assistant City Manager. Kiel's hands-on experience with public works and city administration will be invaluable as we continue to meet the needs and demands of our growing city. He will be an asset to the City's management team and we look forward to his arrival in Manhattan."
After a national search, four finalists were selected to be interviewed and assessed for the position of Assistant City Manager. A public reception was held for members of the community to meet the finalists on May 28, 2014.
Mangus currently serves as Public Works Director for the Town of Frederick, Colorado. He also served as Assistant to the City Administrator for the City of Goddard, Kansas, from 2010 to 2012 and as Economic Development Intern for the City of Derby, Kansas, from 2009 to 2010. Mangus is a member of the International City/County Management Association and the American Public Works Association.
"I am very much looking forward to being actively involved with Manhattan citizens, businesses and civic groups," Mangus said. "I look forward to my new position as Assistant City Manager with the City of Manhattan."
Mangus graduated with a Master of Public Administration (MPA) degree from Wichita State University (WSU) in 2012, and received his bachelor's degree in Construction Science from Kansas State University in 2009. While in graduate school, Mangus worked as a Graduate Assistant in the Hugo Wall School of Public Affairs at WSU. Mangus is a Mulvane, Kansas, native and is married to his wife, Danielle.