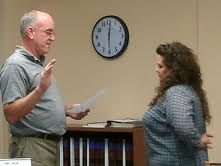 The Wamego City Commission has a new commission member,with a swearing-in ceremony at Tuesday's meeting. City Manager Merl Page introduced Tom Beem, who was nominated and accepted the Commissioner's position to fill the unexpired term of Larry Fechter, who resigned due to health reasons. Beem was sworn in by City Clerk Shanda Jahnke.
In other business, Chris McDonald approached the City requesting access to his residence from the City's right-of-way that abuts his property. After discussing all the options and the unusual location of the property, Mayor Pro-Tem Cliff Baughman asked for a motion to table the decision until the next meeting. All parties involved agreed.
Also, City Manager Page read a proclamation for special recognition of  Pottawattomie County Economic Development Executive Director Bob Cole for his significant personal commitment and outstanding leadership in promoting economic development to the area. Cole retired last week after 12 years of service.
The commission approved business development items. Page said they were approached by BG Consultants with Benefit District Petitions to access the North Ridge apartment complex off of West Highway 24. According to Page, the City will be participating in the cost of two elements, 17 percent with the Kansas Department of Transportation right-of way, and 10 percent in the Commerce Drive access. The cost of the other two elements will be covered by the developers. Approval was given to move forward in filing the petitions.
In other business, the Commission approved an ordinance to rezone the former Tradewinds property from a C-2 (commercial) to I-1 (light industrial) based on a recommendation from the Planning Commission.
Also, the Commission approved the first change order on the Highway 24/Kaw Valley Road project in the amount of $29,378.56. Page said to expect another change order for the end of the project.