Saturday morning, the Riley County Police Department met with Union Pacific's U.P. CARES program to conduct enforcement of railroad- related traffic laws in the Manhattan area. Meanwhile, Operation Lifesaver educated KMAN's Mikayla Gentine about locomotives and railroad safety.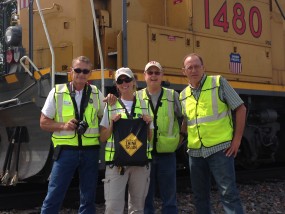 "Operation Lifesaver is an outstanding program," Union Pacific Engineer and Operation Lifesaver volunteer Tom La Combe told KMAN, "In fact, last year [we]spoke to 20-thousand people at different venues [such as schools and driver's programs]about rail safety. A lot of people are killed every year that don't know they're in harms way. So we try and bring that to the forefront and illustrate areas of concern."
La Combe's wife is the Executive Director of Kansas Operation Lifesaver. Julie La Combe says her favorite part of educating the public is helping people understand the seriousness of railroad safety.
"It's hard for us to gauge exactly how many lives have been saved because someone's getting the message." Julie mentioned, "We really can't put a number on that. But I can take what they're saying to me […] they're saying 'I've learned something. I'm going to share it with someone. I didn't realize how important this is, and now I do."
70-percent of fatalities happen during the daytime, and more often in nicer weather. More than 60-percent of collisions happen while the train is traveling at less than 35 miles per hour. Statistics that are pending finalization have shown that the number of this year's fatalities on railroads have already exceeded the total number of fatalities in 2013.
Operation Lifesaver is excited about their new campaign, which stresses the simplicity of train safety on and near railroads, which La Combe hopes will raise awareness of train safety, and help minimize risky and deadly behavior around tracks.
For more information about Operation Lifesaver, visit Kansas Operation Lifesaver on Facebook.