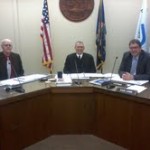 A register of deeds meeting earlier this month helped to clear up a lot of confusion, according to Riley County Register of Deeds, Debbie Regester.  She attended the meeting in McPherson, and it focused largely on the mortgage registration fee elimination.
This was discussed during Thursday's county commission meeting.  Regester explained, an attorney took each line of the bill apart.  He then explained what each part can be interpreted as.
Regester said this was extremely beneficial, as parts of the bill are vague.
Although the attorney cleared up a majority of the confusion, some questions still remain.  This bill is still open to interpretation in some areas.  Regester commented, this could mean different register of deeds could do different things, according to what they interpret from the legislation.
"It sounds like a real problem coming forward", commented Commission Chair, Robert Boyd.
———————
Commissioners reviewed the final draft of the property maintenance code, as Commissioner, Ron Wells has been working with the planning department to simplify the language.
"As it was written, I think it would require another staff member.  We worked together to make this workable for all the citizens of Riley County", Wells stated.
The commission came to a consensus that the draft looked good.  It also should be noted that this change is for the property maintenance code, and is not a building code.