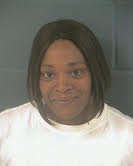 An Ogden woman faces a $25,000 bond after her arrest Wednesday noon. Riley County Police reported Thursday morning the arrest of Deliliah Bellamy, 35,  while she was at the Riley County Police Department.
Bellamy was arrested for motion to revoke probation, which was listed on a warrant from Geary County. Bellamy is no longer in the Riley County Jail.
###
A 20-year-old Manhattan woman was arrested Wednesday night on a probation violation warrant. Police arrested Gina Jones at approximately 8:50 PM.  while she was at the Riley County Jail.  The probation violation warrant lists interference with law enforcement as the original offense. Jones was given a "no bond" and is currently housed at the Riley County Jail.
###
A report of theft was taken in the 3400 block of Lombard Drive in Manhattan after police were contacted by Taylor Steinlage, 22, of Manhattan. Police on the scene were informed Steinlage was the victim of theft after several pieces of jewelry were removed from her home without her consent.
The total estimated loss in this investigation is approximately $3,800 and a suspect has been listed and is known to the victim. No arrests have been made at the time of this report, as officers continue to investigate the matter.