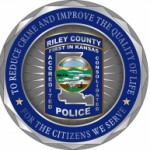 A Junction City man was taken into custody by Riley County Police on several warrants Thursday afternoon. Jason Oder, 32, was arrested at approximately 4:25 PM by police at the Riley County Police Department.
Oder was arrested on six motion to revoke probation warrants, with original offenses including operating a vehicle while declared to be a habitual violator, possession of stolen property, criminal damage to property, possession of methamphetamine, and driving while suspended or Revoked, no liability insurance and no registration.
Oder's bond was set at $11,000.  
 ###
A theft and making false writing case involving Waters True Value of Manhattan has been reported to Riley County Police. The incidents reportedly occurred between August 10th of last year and this past Thursday (26th of June).
Police filed a report for several rental items that were not returned, some of which were pawned, including a paint sprayer, seam iron, seam roller, and two step ladders. $789 in rental fees were also charged unlawfully.
A suspect is being investigated; however no arrests have been made at this time. The total estimated loss amount is $2,356 .